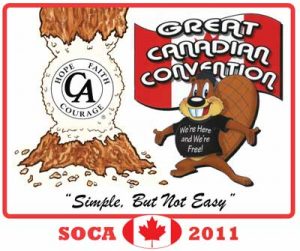 Simple, But Not Easy — 15th Annual SOCA Convention & the 4th Annual Great Canadian Convention of Cocaine Anonymous
August 19th, 20th, 22nd, 2011 in Toronto, Ontario, Canada
Download 2011, 4th Annual Great Canadian Convention of Cocaine Anonymous Program
---
Opening Speaker — Joe A. (Montreal)
---
Step 4 Workshop –Kellie F. (Surrey, BC)
---
Great Canadian Fellowship Presentation – A History and Overview of Cocaine Anonymous in Canada
Theme: The CA Fellowship Across Canada
Cocaine Anonymous in Canada has 8 active areas: Canada Maritimes, Quebec, Southern Ontario, Manitoba, Saskatchewan, Southern Alberta, Northern Alberta, and British Columbia. There are more than 200 CA Groups with more than 4000 members of Cocaine Anonymous across our nation. Five CA members from across Canada, who are actively involved in CA, some of whom have been involved from CA's inception in their area: Kellie F. (BC), Percy O. (AB), Kirk L. (MB), Dorian C. (ON), Marie Sylvie G. (PQ) will share:
A brief history of CA in their area.
What CA in their area like today?
What stands out what makes CA special in their Area?
---
Local Speaker — Nafisha S. (Toronto, ON)
---
Local Speaker — Ron H. (London, ON)
---
Saturday Keynote Speaker — Mark Anthony J. (Vancouver, BC)
---
Closing Speaker – Kellie F. (Surrey, BC)
---
The 2011, 4th Annual Great Canadian Convention Committee

Chair – Scott P.
Vice Chair – Bob A.
Treasurer – Terry N.
Alt-Treasurer – Justin W.
Programming Chair – Sean R.
Registration Chair – Margot M.
Secretary – Vanessa S.
Fundraising Chair – Cameron F.
Web Chair – Cameron F.
Hotel/Banquet – Scott P.
Auction/Raffle – Bill W.
Outreach – Nicole Z.
Hospitality – Katie P.
Entertainment – Shanna P.
Printing & Logo – Cameron F.
Memorabilia – Scott P.
Greeter Chair – Justin W.
2011 SOCA Convention Hospitality Suite
Kudos to the Rebel Group of CA in Toronto for their "over-the-top" efforts at hosting the 2011 Convention Hospitality Suite. The Rebel Group's outstanding generosity of spirit helped, throughout the three-day of the convention, to provide refreshments, food and snacks to some 400 CA attendees. Special thanks to Brian and Cathy for their creation of a three-tiered Great Canadian Convention Cake complete with a chocolate Canadian beaver. The chocolate beaver was later sold at the Saturday night auction to raise funds for the convention.